The city center is the heart of Lille. It goes from the train station "Lille Europe" to the park called Jean Baptiste Lebas going through Rue Solférino, République, Rihour, Grand Place and Rue Nationale.
 This neighbourhood has many attractive spots to shop (Rue de Béthune), to eat and drink sitting on terraces (Place Rihour and Grand Place). You will also find cultural locations(Palais des Beaux-Arts, Gare Saint Sauveur)and, if you want to party, the place to be is: Rue Solferino, Rue Masséna and the park Jean Baptiste Lebas. It is the heart of the student life in Lille.
But it is only by strolling that you will discover good addresses to eat, drink a nice beer in a calm café, or even discover underground cultural spots.
Even if République and Grand Place are a must see in your visit of Lille, the neighbourhood is not the most charming of the city but we are here to provide you with good addresses.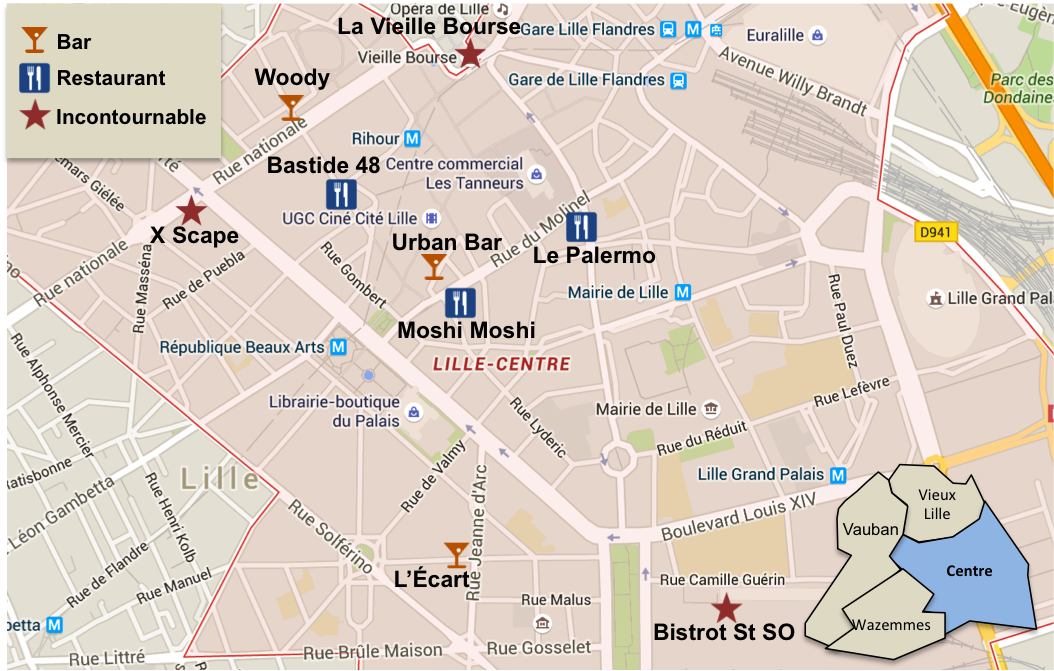 Woody – You like wood and you're looking for a place downtown to have a little nice break? Come to this new trendy bar located in the city center and enjoy a few original specialties.  92 rue de l'hôpital militaire
L'Urban  bar – If you are in a shopping trip in the city center and fancy a terrific secret terrace, you don't need anything else than the Urban. No noise, no cars and just a few steps away from the rue de Béthune. Real good! 22 rue du court debout
L'écart  – This bar has a name that suits it pretty well! This little hidden bar of the city center is an invitation to enjoy literature, debates and to meet for the afterwork time to enjoy it as we like it! Bookish, artistic and hobo type… 26 rue Jeanne d'Arc


---

  TOP RESTO : 
Bastide 48 – Are you looking for a chic and chill place to eat great food? At two steps away from the Grand Place and the place Rihour, let yourself be tempted by one of the best restaurant of the Lille metropolis! On top of that, the Sunday brunch is inimitable. 48 rue de l'hôpital militaire

Le Palermo – Le Palermo no longer has to prove its worth since a long time. I'm sure you already understood that this little Sicilian osteria offers you excellent Italian specialities. 148 rue de Paris
Moshi Moshi – Known to be the best Japanese restaurant in town. Forget about sushis and discover real traditional Japanese food. Just a stone's throw from the République Metro station. 145 rue du molinel
---
Bistrot St So – Essential place where people of Lille like to meet. Exhibition, concerts, terraces, general events… there is always something happening at the Gare Saint-Sauveur! Do not miss it while staying in Lille. Boho, relax and chill atmosphere. We love it! 17 boulevard Jean-Baptiste Lebas
L Xscape  –  If you haven't lost your inner child, have a the spirit of a detective, enjoy taking up challenges with your friends and are looking for an hour and a half recreational time between mates, for sure you have to try the Xscape! An escape game in which you have to escape from the panic room and resolve the puzzle. 115 rue Nationale
La Vieille bourse – Located just by the Grand Place, La vieille bourse is a sublime place to shop outdoors and find second-hand old books. We usually walk through it, but you might be like appealed and retained a pretty long time by this charming pace characterised by the typical architecture of the Spanish Flanders.