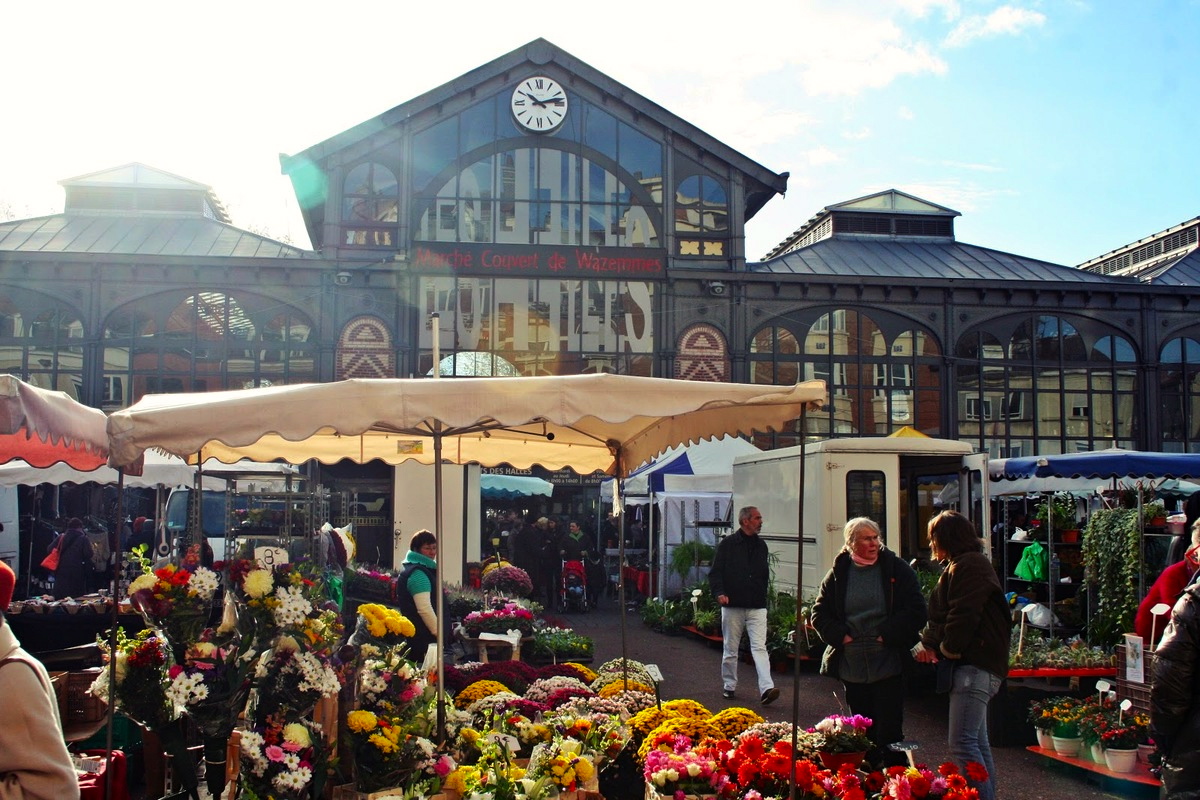 Wazemmes is THE popular bohemian neighbourhood of Lille with an incredible social diversity: young people, students, foreigners, artists… The neighbourhood is often compared to Camden Town, London. Its cultural life offers many concerts in bars or exhibitions in La Maison Folie. Many atypical bars provide a great social life where people meet, drink and enjoy their time together.
The central meeting point in Wazemmes is the farmer's market on Tuesday, Thursday and Sunday morning. You will find everything from fruits, veggies, roasted chicken, cheese … to clothes, perfums, daily-life products with competitive prices. On sunny days, we love to sit down on the terraces of the many cafés surrounding the square. Behind the covered market, you will find the shopping street of Wazemmes, Rue Gambetta, which will lead you to the city center.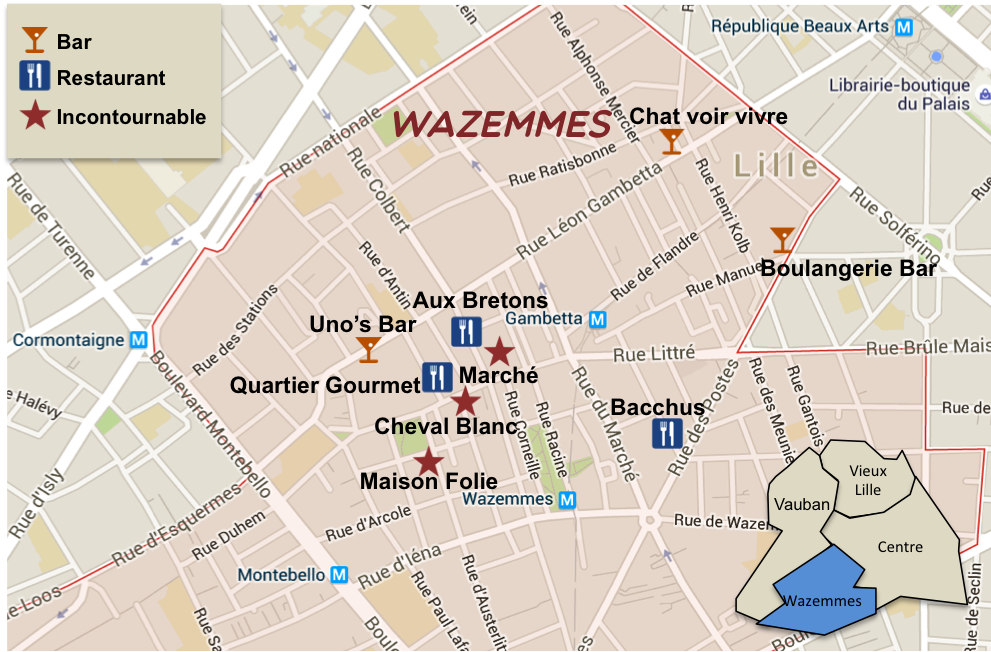 Uno's bar –  Fancy an original bar where you can drink good beers, play ping-pong and pétanque? No problem, here is the right place. 385 rue Léon Gambetta
Au chat voir vivre –  If you like cats, you'll love Au chat voir-vivre! Real little kingdom dedicated to cats and lovers of fluffy balls, this tea house will be perfect for a purring and sweet gourmet break during your stay. 158 rue Léon Gambetta

Boulangerie bar –  Located in a former bakery, this is the "trendy" bar of Wazemmes, with a backroom and a terrace. Little exhibitions are often organised and the service is premium. 28 rue des postes

---

  TOP RESTO : 
Chez Bacchus –  Its name doesn't necessarily tell us about it but this place is one of the best Lebanon restaurant in Lille. To eat here or to take away, let yourself be tempted by their specialities and a unique know-how. 124 rue des postes

Quartier Gourmet –  This is quite surprising to find a gourmet restaurant in this pretty popular neighbourhood.Running by 4 friends, this restaurant offers you traditional French dishes described as "bistronomiques". A good value as their cuisine is real good. 34 rue durnerin

Aux Bretons –  In spite of its name recalling another French region, Aux Bretons offers you the traditional cuisine of Northern France. We suggest you to try the "welsh" that will leave you a memory you'll cherish forever. 18 place nouvelle aventure 

---
Le marché de Wazemmes –  The popular market of Lille. Inevitable, colourful, surrounded by a multitude of bars where it's nice to set down, eat a roast chicken, spring rolls and saucissons. Real provincial folklore time, everybody meets there on Sunday morning. It looks somewhat like a flea market and prices are unbeatable! 18 place nouvelle aventure

La maison folie –  This institutional building dedicated to cultural expression will not leave you indifferent. Exhibitions and concerts are steadily organised. 70 rue des sarazins

Le cheval blanc –  On Sunday, have a small side trip to Le cheval blanc, you'll never forget it. The two sisters with a wet character and a festive nature portray the northern spirit. Come and eat a good traditional food concocted by Nicole and let yourself be stunned by the "bal musette" that takes place every Sunday afternoon. 56 rue des sarazins

---
If you're willing to stay in this more popular neighbourhood, you'll find accommodation at a cheaper price than everywhere else. Ideal place for smaller budgets!